Since we discuss everything vanvogtian in detail, this entire interview consists of one gigantic spoiler after another.

In particular, if you haven't yet read Null-A Continuum, don't read this interview. Seriously. Just don't. You'd kick yourself afterwards.
The following interview is Copyright ©2008, 2011 by Isaac Walwyn. It was conducted by email over a period of several weeks, then edited together into a more streamlined form.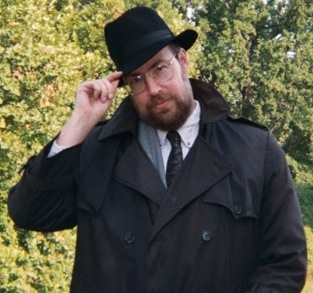 John C. Wright is the author of the recent novel Null-A Continuum, a sequel to van Vogt's famous Null-A trilogy. He's written many other books besides, including the highly acclaimed Golden Age trilogy and the Nebula Award finalist Orphans of Chaos. He was kind enough to take the time to strap himself into the Aurora Chair and let me learn everything he knows about sevagrams (and a few other things besides).
A lengthy podcast interview with John C. Wright — conducted by another John C. by the name of Snider — was available on the Sci Fi Dimensions website, though this website was taken down in 2010. However, I've uploaded the podcast so you can download it here. Mostly related to van Vogt, it contains much material of interest.
Wright's blog can be visited here.
Section I: Plans & Preludes
Isaac:

What was the most challenging thing about writing Null-A Continuum?

Isaac:

When did you begin seriously pursuing writing a Null-A sequel? And what were the various stages involved in such a complex project?

Isaac:

Was Null-A Continuum approved by van Vogt's estate before or after Slan Hunter? I remember reading the announcement to Continuum just a few weeks before Anderson's book was likewise announced. I got the impression that Continuum was at the first draft stage at that point, whereas Anderson had just been signed up to finish the Slan sequel. The latter struck me as a sort of bandwagonish thing, or as if some national park agency had announced the opening of Sequel Season, but not knowing all the facts I could well be mistaken.

Isaac:

Being such a big van Vogt fan, I expect you had probably been plotting the outline to a van Vogt sequel in your head since you were a boy. How did the earlier "drafts" in your head compare with the final result?

Section II: Composition
Isaac:

Even when an author writes a sequel to his own works, he often ignores certain "inconvenient" facts established in the previous books, in order to allow him to write the sequel as he sees fit. Are there any aspects of the first three Null-A novels that, for whatever reason, you've decided to not carry over into Null-A Continuum?

Isaac:

What elements in the serial of World did you find particularly enlightening or useful when writing your novel?

Isaac:

And what's your appraisal of the serial in relation to the book version?

Isaac:

Why did you decide to use Ptath as a prominent name in a Null-A novel? Won't this confuse and irritate readers familiar with van Vogt?

Isaac:

If Null-A helps integrate control of the nervous system and eliminate unsanity, how can a warped form of Null-A — that does the exact opposite — possibly exist? I personally think this was a great aspect of the novel, but there are some out there who will wonder how you can explain this away.

Section III: Vanvogtiana
Isaac:

I was astonished by the purely vanvogtian ideas that appeared throughout Continuum. If I didn't know better, I'd guess that an electric ouija board specially built for "ghostwriters" had a role to play in creating the plot.

Seriously, though, what did you do to "train" yourself to write like van Vogt, aside from re-reading his books? Did you put yourself into a hypnotic trance, slide into a superhot bathtub, and listen to the audiobooks of Voyage of the Space Beagle and World of Null-A over and over and over again until you came out babbling in Non-A Nexialist phrases like some Gosseyn-Grosvenor hybrid? ;-)

Isaac:

Even though Continuum features elements from more van Vogt stories than you can shake a stick at, why a Null-A sequel specifically? Why not a Weapons Shop, Space Beagle, Linn, Rull, or Mixed Men sequel? Heck, why not another volume chronicling the continued financial adventures of Artur Blord?

Isaac:

When I was reading Null-A Continuum, I was greatly impressed by your in-depth knowledge of van Vogt's entire corpus of works. Do you have any special favorites among his books and stories? What are they, and why? And which works do you find yourself reading more often than the others?

Isaac:

Every author writes a few rock-bottom mind-boggling stinkers, though some produce more than others. Which of van Vogt's works do you consider to be in that inauspicious category?

Isaac:

And, on a related note, how do you think his later work compares with his early work? Most seem to favor his early period by a wide margin, but I myself tend to think his later works are grossly underrated, despite the Dianetics and gender-issues material. Although they lacked the surreal dream-like atmosphere of his early work, his later novels tend to feature more sophisticated ideas, and by and large he made better use of them throughout the story. His prose style also improved noticeably, making for a more readable experience. I view his output from the '40s and '50s as works of sheer inspiration, whereas his output from the '60s and '70s are more works of calculated skill. What's your take on all this?

Section IV: Submitted Questions

Although my invitation for questions submitted by visitors to this website was open for almost two months, the response was far less than I expected. But what they lacked in quantity, they made up for in quality. And since the turnout was so limited I waived my original allowance of only one question per person.

Michael McKinney:

In H. L. Drake's book A. E. van Vogt: Science Fantasy's Icon, there is an interesting quote:

"[...] Van Vogt told me that perhaps after his death a writer would contact his wife, Lydia, and contract to do another Gosseyn novel featuring eighteen year olds! (Interviews, 1985)"

Were you aware of this quote, and did it have any influence when you set out to write a Null-A sequel?

Michael McKinney:

Several Van fans have remarked that Null-A Three reads in large part as it were ghost written. The opening sequence seems to be authentic van Vogt, but much of the novel is uncharacteristic — and not in a way one would necessarily expect from dementia, but more like the product of other, fully cognizant, hands imperfectly imitating Van's style.

It's somewhat surprising you were given permission to essentially write an alternate ending to the Grandmaster's classic series; but it would be more understandable if the original third volume was not entirely van Vogt's work. What have you learned of the genesis of Null-A Three, and are you free to discuss it?

Yves Levy:

What is the added value of a fourth Null-A book (except in terms of marketing, of course)? And could we imagine a second sequel to Gilbert Gosseyn's adventures?

Section V: Wandering Abroad
Isaac:

A while back you recommended I read The Night Land by William Hope Hodgson, and I'm very glad you did. I found the setting to be a work of unparalleled imagination, and was staggered that such a thing was written almost a hundred years ago and languished in obscurity for so long. I'm always eager to read more of the neglected giants of yesterday, so are there any other such gems that you would recommend?

Isaac:

Having now worked in settings created by A.E. van Vogt and William Hope Hodgson, are there any other authors whose works you'd like to expand on?

Isaac:

It's my belief that every writer has something unique to contribute to the field they work in, whether it be an idea, a fascinating setting, a writing style, memorable characters, a brand of humor, a way of looking at the world, or any of a vast number of things. Do you feel that you've brought something unique to science fiction, and, if so, what might that be?

Isaac:

Is there a question you were looking forward to answering, but that I was inconsiderate enough not to know to ask? :-)

Section VI: The Wider World
Isaac:

Near the end of my high school years, as I looked over the colleges available, I briefly toyed with the idea of applying to St. John's, which is one of your alma maters. As a history student, I've always felt very strongly about learning from the original sources rather than gaining such knowledge second- or third-hand through textbooks. In the end I went to a different college, but just out of curiosity would you mind sharing some of your experiences there?

Isaac:

Even though I'm a born-again Christian who believes God sometimes directly intervenes in individuals' lives, I must be perfectly frank here and say I found your account of the visions you experienced in the hospital a few years ago to be, shall we say, rather peculiar and a little difficult to believe. And if that was my reaction, I can only imagine what your reaction must have been, being a hard-core atheist at the time. What was it like having your whole worldview turned topsy-turvy? And how are you adapting to your new life in Christ?

Isaac:

There are many people who might have had the exact same experience you did, but who would have immediately gone to great lengths to rationalize it as a fit of delirium, regardless of how real they knew it to be. I think it speaks volumes for your own character that you were actively seeking the truth, and willing to accept it, no matter the cost to yourself and to your beliefs. It's incredibly rare, though, for God to ever step in and treat someone to an experience like yours, and I hope you realize what a special gift you were given.

I have two concluding questions regarding all this, mainly to satisfy my own curiosity. Firstly, every fellow Christian that I know came to Christ through reason and faith, and didn't need the red-carpet five-alarm Ebenezer Scrooge treatment. Why do you think yours was a special case?

Isaac:

And lastly, I read somewhere that you were considering writing a work comparing your world views as an atheist and as a Christian, and the reasons for both sides. Is this true, and if so, have you started it yet?

Isaac:

Well, Mr. Wright, I've enjoyed this interview tremendously. I'd like to offer you my sincere thanks for agreeing to it, and for providing such wonderfully comprehensive answers to my sometimes difficult questions. Aside from the honor of being able to ask detailed questions of a noteworthy SF writer, it's been a real pleasure to speak with such a knowledgeable and ardent van Vogt fan and the author of the very impressive Null-A Continuum.
Interview © 2008, 2011 by Isaac Walwyn